After a period of inactivity, Westport Monthly Meeting's Peace and Social Concerns Committee was reinvigorated in 2016 with a now active agenda and committed body of Friends to carry its work onward. Moving forward, committee members preferred to be known as a Peace and Social Justice Committee. Monthly meeting for business approved this name change at its meeting on September 24, 2017. Currently, the clerk of Peace and Social Justice Committee is Gretchen Baker-Smith. Cell: 508-287-6441.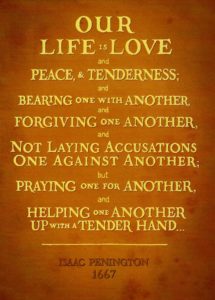 In its report to monthly meeting for business on September 24, 2017, Peace and Social Justice Committee encouraged Westport Monthly Meeting of Friends to consider affirming its commitment to recognize and dismantle racism and white supremacy in all of its forms, within our own Society and beyond. The Clerk of Meeting read aloud a document from New England Yearly Meeting titled, "Such a Time as This: A Response to Hate and Violence." After a period of discussion, Friends approved the following Minute:
"Minute 2017-09-08 – Westport Monthly Meeting of Friends is committed to the work of dismantling racism and white supremacy in the Religious Society of Friends and the wider world. We support the efforts of our Peace and Social Justice Committee in their pursuit of this work."
Peace and Social Justice Committee meets regularly in the Potter House annex of the Macomber Friends Community House. Please see Meeting Calendar for posted meeting times.
Upcoming Peace and Social Justice Events:
The Westport Meeting's Peace and Social Justice Committee has been considering how we as a Meeting can begin to address issues of race, including white supremacy. Quoting from the recent statement from NEYM titled "For Such a Time as This",
In this historical moment, as in so many before, the voices, bodies and spirits of people of color are rising in witness, struggle and liberation whether we as white people join them or not. The essential question is whether – at such a time as this – we who benefit because of our "whiteness" will accept in a new way the Spirit's call to act for justice and wholeness, asking for God's guidance with every step. (Aug. 18, 2017)
We feel led to heed this call by offering opportunities to help educate and enlighten all of us so that we might each take up this work each day. Following is a list of planned events.
Tour the New Bedford Underground Railroad with the National Park Service
Members and attenders of Westport Friends Meeting will gather for a tour of New Bedford"s Underground Railroad on
October 15, 2017
. This is an approximate 45 minute to one hour walking tour led by a National Park Service Ranger. We will meet at
2:15
at the National Park Service, 33 William street New Bedford. Parking: Metered parking in the area is free on Sundays. There is also a garage nearby at 51 Elm street which is also free on Sundays. We will need a head count, or if you have questions, please email
Pamela Terrien
or call her cell at 774-526-5439.
Community Movie Viewings and Discussions:
13th
The film begins with the idea that 25 percent of the people in the world who are incarcerated are incarcerated in the U.S., even though the U.S. has just 5% of the world's population. Charting the explosive growth in America's prison population, 13th touches on chattel slavery; D. W. Griffith's film "The Birth of a Nation"; Emmett Till; the Civil Rights Act of 1964; and Ronald Reagan's declaration of the war on drugs and much more. November date TBA.
I Am Not Your Negro
At the time of James Baldwin's death in 1987, he left behind only 30 completed pages of a manuscript that was to be a revolutionary and personal account of the lives and assassinations of three of his close friends: Medgar Evers, Malcolm X, and Martin Luther King, Jr. Filmmaker Raoul Peck envisions the book James Baldwin never finished. January date TBA.
For more info contact: Gretchen Baker-Smith, Clerk, 508-287-6441 | hellogretchen@gmail.com
Peace and Social Justice Related Resources:
Such a Time as This: A Response to Hate and Violence | NEYM 8/18/17
Healing Racism Toolkit Project
Previous Peace and Social Justice Events (Sponsored or otherwise.)
The Power of Storytelling: Building Empathy & Bridging Differences
September 10, 2017 | 11:30-1:30 | Macomber Community House, 930 Main Road, Westport, MA
Bystander Training with Martha Yager | AFSC/SENE Feb 13, 2017