From the New England Yearly Meeting of Friends (NEYM) website: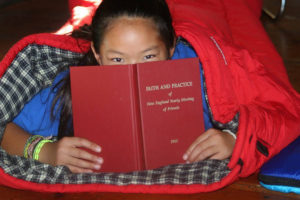 "This Interim book of Faith and Practice 2014 is being made available at this time so that the Yearly Meeting may live with it, use it and continue to be fellow workers with us as we proceed to the remaining chapters on how our faith is lived out in our personal lives, in our meetings, and in the wider world.
Explore this book with Friends! Explore it in your private devotions! Share your reflections with the Faith and Practice Revision Committee(link sends e-mail)."
Interim Faith and Practice 2014
Please click this link to see The Interim NEYM Faith and Practice, 2014 Edition. The 215 page document is available free as a PDF.
Additional information about the Interim NEYM Faith and Practice, and suggestions on how to use it is available HERE.
Friends can join this process by visiting this link on the NEYM site.
Faith and Practice, 1985 edition
Please click this link to view the 1985 edition of NEYM Faith and Practice, which is now out of print. Hard cover copies also remain available to borrow from our Meeting's library.